Veterans Day wasn't always "Veterans Day." It used to be called by another name.
In the year 1918, on the eleventh hour of the eleventh day of the eleventh month, the Allies and Germany came together at Rethondes, France and signed an armistice that ended hostilities on the Western Front.
"The War to End All Wars" was finally over. Roughly 20 million had perished, but the November 11 peace lasted and the soldiers went home.
In the United States and other allied countries, November 11th became an official holiday called Armistice Day as declared by President Woodrow Wilson in 1919.
Several years later, an act of Congress made November 11th a federal legal holiday, calling Armistice Day, "a day to be dedicated to the cause of world peace."
All around the globe, people embraced the tradition of pausing for two minutes of silence at 11 a.m. on Armistice Day as a tribute to all those who fought in the Great War, as well as to give thanks for peace.
The holiday began to lose its significance in 1939. As Britain and other western countries prepared for the impending war against Germany, it became clear that the "War to End All Wars" would soon need a new name.
In some countries, the two-minute Armistice Day silence was moved to the Sunday nearest November 11th to prevent it from interfering with wartime production.
Over 60 million people died in World War II -- the deadliest conflict in human history.

In the 1950's, Armistice Day in the United States was changed to Veterans Day to remember all those that had served.

The original language about the holiday being dedicated to 'world peace' was dropped.

American novelist Kurt Vonnegut mentioned the holiday in "Breakfast of Champions." As an American WWII veteran and former prisoner of war, he wrote:

"When I was a boy, all the people of all the nations which had fought in the First World War were silent during the eleventh minute of the eleventh hour of Armistice Day, which was the eleventh day of the eleventh month. It was during that minute in nineteen hundred and eighteen, that millions upon millions of human beings stopped butchering one and another. I have talked to old men who were on battlefields during that minute. They have told me in one way or another that the sudden silence was the voice of God. So we still have among us some men who can remember when God spoke clearly to mankind. Armistice Day has become Veterans' Day. Armistice Day was sacred. Veterans' Day is not."
An outspoken humanist and anti-war activist, the establishment of Veterans Day disappointed him.
A holiday dedicated to peace and those who fought in the "War to End All Wars" was replaced by a holiday to honor a continually growing population of war veterans.
The name 'Veterans Day' itself suggests that we will always have living war veterans to honor -- that war will never be finished once and for all. That mankind has yet to learn to create a world where war is not necessary.
And I always, always remember...my own father and his four brothers. Members of a five star family.
Five brothers all went to war in branches of the military. But only 4 returned home once again when WWII ended.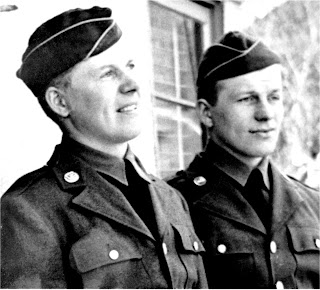 My own proud veteran father has been gone for eight years now, but I think of him and bless him for all that he gave ..to our country, to our family, and to me.
And I think of his brothers..all gone now, as well. And my heart aches for so many losses. But the loss of my uncle who died in war, shot down at sea, at age 21...so very, very sad.
But he died with honor and a deep, deep sense of patriotism that filled my strong pioneer family even before Alaska became a state a decade and a half later.
On Veterans Day 2018, we find ourselves still at war. We may have gotten weary of wars far away in other lands, but for those with loved ones in active service, or those who have lost loved ones who were ever in war but still in service, I would like to truly honor the memory and the intent of this day.
11:11:11
*Place take a few minutes...perhaps at 11 a.m. as in tradition... or perhaps at 11:11 on today the 11th month and the 11th day to increase by the power of synchronicity......and honor veterans but also feel, be and pray for peace
.
May the peace we pray for be sent forward to manifest into a universe of peace where Veteran's Day once again honors that original day of complete peace. And pray for nations to be at peace, with soldiers free....to once more come home again.
And in remembrance, let us not forget the other nations who also served in so many wars as well as in time of peace:
In the Commonwealth:
Remembrance Day (also known as Poppy Day or
Armistice Day
) is a memorial day observed in Commonwealth countries since the end of World War I to remember the members of their armed forces who have died in the line of duty.
This day, or alternative dates, are also recognised as special days for war remembrances in many non-Commonwealth countries.
Remembrance Day is observed on 11 November to recall the end of hostilities of World War I on that date in 1918. Hostilities formally ended "at the 11th hour of the 11th day of the 11th month," in accordance with the Armistice, signed by representatives of Germany and the Entente between 5:12 and 5:20 a.m.
The saying "At the 11th hour"
actually refers to the passing of the 11th hour or 11:00 a.m.
I asked fellow volunteer, Terry Raphun, if she'd gotten her last project done. She'd not only finished it but delivered it personally to Pierre Van Der Wielen from Golden Valley, AZ in Arizona.
And the QOV Arizona State Representative came from Tucson to present this quilt making it an extra special event for everyone involved!
A heart touching tribute and lovingly given as well as gratefully received! Terry said it was an awesome experience. Just hearing about it brought tears to my eyes as it reminded me why we volunteer, why we quilt, and what keeps us giving and giving to others in our community and beyond.
I've been making and donating a variety of patriotic themed quilts, bags, banners, hot pads, table runners..you name it..to military bases, local veteran's centers, veteran homes and hospice care centers and to families' that could just use a patriotic pick me up!
Many of my quilts are simple 'make as you go' designs where I use purchased center medallions or string quilting techniques to create my one of a kind patriotic quilts. But my blog posts are filled with photos of my process and will most certainly help you be inspired with ideas of your own.
I also collect patriotic sewing and quilting links from around the world wide web and these are bookmarked and shared below with my readers!
With patriotic, I often used store bought patriotic panels and simply create strings and bits to frame them..quick and easy and you can make a lot of them for donation in a hurry!
And right above, and below, small projects just to let a military family know that you are thinking of them!
I love to
make and give away so many patriotic bags, neck pillows and so many other fun items!
Patriotic Quilting of Small Projects: Potholders
same as one block of a Patriotic String Quilt!
Free Patriotic Quilt Patterns:
Free Union & Confederate Soldier's Patriotic Quilt Pattern
Soldier's Patriotic
Union Eagle Quilt
Gunboat Quilts
...applique motif ideas like above
Pomegranate (Marriage )Quilt
Flags & Heart
McCalls now requires a sign in to download next 16 patterns below but there is no fee:
54-40 or Fight
Independence Day
"
A Nation's Pride
"
Midnight Stars
"
American Classic
"
Shining Through
Bear's Paw
Stars & Stripes Forever
Born in the USA
Summer Spirit
Celebration 2000
True Colors
Land of Liberty

15" x 20" pieced quilt project from Debbie Mumm
http://blog.debbiemumm.com/files/LandOfLiberty-Instructions.pdf
Liberate!
block from Quilter's Cache
Liberty Star Basket
Patriotic

Star
string quilted star pattern from Maryquilts
Party Hats
Indian Trail
Northumberland Star
Royalty
...the 911 block
Ohio Star
Spiderweb Star
Patriotic mini quilt: a free pattern for an 1890's reproduction
by Patricia Cummings
In The Line of Duty
(no longer links if you have one to this, please let me know!)
Shuttle (In Memory of the Columbia) Pattern
American Flag
...free American Flag patterns flying horizontal, vertical, or waving!
Star in a Wall Hanging
Compuquilts: free patriotic blocks and quilt patterns as below:
The Crazy Star Flag
The 4th Star Flag Block and Quilt
Sapphire Stars Quilt
(3 sizes)
Scottish Stars Quilt
(39" Square) by Joy Hoffman
From Darlene Zimmerman:
Stardance Quilt
(52.5" x 61.5")
Gala
xy of Stars Quilt
39" x 29"
61" x 82"
Shooting Stars
Ribbons to make in
Red
, White and
Blue
,
Pink
, and
Yellow
Directions For Making a Blue or Gold Star Service Banner
Armed Services Flag
for families with a member in active duty at this time! Fly proudly in your window!!!
3" x 6" US Ribbon Block
US Ribbon Block
Amerihearts at Home
A nation's
pride...'stained glass look quilt block pattern'
US "We Support" Ribbon wall hanging
Americana Flag
Navy Star
Army Star
Patriotic Block Patterns:
Finished Size: 15" x 33"
Moda Marbles Stars Tablerunner™
| | |
| --- | --- |
| American Independence Free Quilting Pattern | |
Featured in the
July/August 2011 Issue of Fons & Porter's Love of Quilting
, this free civil war quilting pattern is perfect for quilters looking for a pattern that features a touch of tradition.
For instructions on how to create
American Independence
, please click on the link below.
Quilt Instructions
Patriotic Quilts E-book
Fons & Porter Design Wall
Of course, that doesn't stop us from making quilts! Here is a great one from Janet Mednick called "Patriot Proud".
Heidi Pridemore's quilt, "Stars and Stripes," has a more whimsical feel, with fussy cut hearts made from the patchwork print. In fact, she might have called it "Hearts and Stripes" instead!
American Glory
quilt tutorial by
Stefanie Roman
for
Moda Bakeshop
Nantucket Knots Free Table Warmer Quilt Pattern
Free Patriotic Quilt Pattern Here
Four Flags Quilt Block from Better Homes and Gardens
Free Patriotic Quilt Pattern Here


July Flag from Quiltmaker.com :
Free Patriotic Quilt Pattern Here
Rainbow Stars from Better Homes & Gardens:
Free Patriotic Quilt Pattern Here
Stars & Stripes from Benartex:
Free Patriotic Quilt Pattern Here
Union Star from Quiltmaker.com:
Free Patriotic Quilt Pattern Here
Veteran's Pride from Quiltmaker.com:
Free Patriotic Quilt Pattern Here
Free pattern, click here.
Susan K. Cleveland prairie points
tool flag
Pat Sloan's Patriotics: See all her free patterns!
including these amazing beauties!
Liberty Heart
Download SWEET LIBERTY HEART Pattern
CLICK HERE for a KIT!
Liberty Stars made with her Sweet Liberty Fabric line
CLICK HERE to Download the pattern
Sweet Liberty fabric and her free Stars and Stripes pattern:
C
LICK HERE to Download the pattern
Patriotic Heartstrings of Memory idea made by Michele Bilyeu "With Heart and Hands":
see:String Quilting:Tutorial and Free Patterns
Patriotic Checkers from Bernina and Sewing.org:
Free Patriotic Quilt Pattern Here
Blue or Gold Star Service Banner
Patriotic Miniature Quilt
US"We Support" Ribbon wall hanging
PATRIOTIC MINIATURE QUILT
An 1890s reproduction quilt, and a free pattern for you
Patriotic Miniature Quilt
US"We Support" Ribbon wall hanging
Military Free Printables
And for pure inspiration (but not free patterns) check out:
America's 9-11 Memorial Quilts Web Site
Military Free Printables
Check out:
Camp Sherman: A Token Gift, Left Behind
Patriotic Sewing Frenzy
Shown at top:


one of my lap-sized string quilts with a pre-purchased center panel, makes up quickly and easily and is perfect for someone who is usually seated, as in a wheelchair.
String Quilting
Comfort Quilts
Patriotic Heartstrings
Were you really looking for a Liberated Star

Quilt Block

Pattern???and google sen

t you here???? Check out:
wonky or liberated stars, churn dashes, alphabet letters, rail fences blocks, hearts, log cabins, etc.
Go to:
The idea of liberated or wonky, free-pieced houses and liberated stars was born...and it ... Great List of Wonky, Free-Pieced, or Liberated Quilt Block Patterns, ..
Michele Bilyeu
Creates
With Heart and Hands
as she shares her imaginative, magical, and healing journey from Alaska to Oregon. Creating, designing, sewing, quilting, and wildcrafting... from my heart and with my hands
Help us change the world, one little quilt at a time!